Are you drawn to the classic appeal of wood garage doors but find that you prefer a modern aesthetic for your home exterior? Modern wood garage doors can give you the best of both worlds. Wood is often associated with traditional or rustic-style garage doors. In reality, wood also has a place in the catalog of modern garage doors. Learn all about some of the benefits of modern wood garage doors in this blog. 
Key Characteristics Of Modern Wood Garage Doors 
Before exploring the benefits of modern wood garage doors, you're probably wondering, "What defines a modern wood garage door?" It's important to note that modern wood garage doors come with some key characteristics. These traits distinguish them from other wood garage door styles. 
The first key characteristic to keep in mind is the sleek, clean, smooth, and horizontal finish on these garage door panels. In addition to this sleek finish, this style also features garage doors that typically come in one or two colors to maintain the trademark minimalist appearance. Finally, some modern wood garage doors might also include rectangular glass windows that might be stacked or in squares, though not all garage doors of this style will include them. Now that you know the defining traits of modern wood garage doors, you're ready to learn more.
3 Benefits Of Modern Wood Garage Doors 
There are many benefits that can be reaped from modern wood garage doors. For the purposes of this blog, explore four of the main benefits that they offer.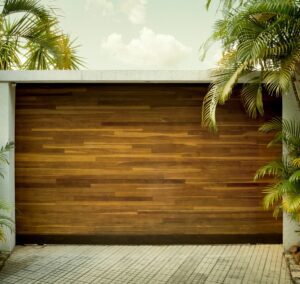 1. Increased Curb Appeal 
One of the more obvious benefits of modern wood garage doors is that they can significantly boost your home's curb appeal. The classic wood material presented with a modern twist will surely draw the attention of others and make your home the envy of your neighborhood. Increased curb appeal will also allow your home to sell for an excellent price when you eventually put it on the market. 
2. Excellent Insulation 
Whether modern or traditional, wood garage doors always include a space where any kind of insulation can be installed. Most types of wood are also natural insulators already, making these garage doors excellent for insulation. Temperature moderation isn't the only perk of insulated modern wood garage doors; insulation can also soundproof your garage door whenever it's operating. 
3. Many Kinds Of Wood Options 
The best part about this kind of garage door is that you can choose from many kinds of wood options. Each kind of wood brings different benefits and drawbacks, so you can choose the type of wood for your modern garage door that best suits your needs. The most popular wood options for garage doors are plywood, cedar, and reclaimed wood. 
Plywood is great if you want something affordable and easy to install. Cedar is worth considering for its high durability, stylistic versatility, and timelessness. If you want to go for a more eco-friendly option, then reclaimed wood is the choice for you. These aren't the only options for wood for this style of garage door, so take time to explore all the possible wood options and what they can do for your garage door. 
Maintaining Modern Wood Garage Doors 
If your heart is set on a modern wood garage door, it's important to be aware of the extent to which they require maintenance. These garage doors require a monthly cleaning with regular soap and hot water, and you should ensure that they're properly weather sealed. You should also make time once or twice a year to inspect your wood garage door for wood rot and retouch the exterior every two or three years. Keep up with these maintenance tips so you can get the most out of your modern wood garage door. 
Our Technicians Are Here To Help!
Hopefully, you are now more certain as to whether or not modern wood garage doors are for you. These doors bring many benefits to your home but are also a major commitment in terms of upkeep. If you are having any difficulties with your garage door, contact us today at ASAP Garage Doors so our technicians can help return your garage door to working order.