The fear of your home catching on fire is probably one of the things you worry about on a day-to-day basis. Fires are devastating, and it's no wonder many homeowners go to great lengths to prevent them. You might think you're well-prepared for a disaster with your state-of-the-art smoke detector, multiple fire extinguishers, and an escape plan. But how much thought do you put into your garage catching fire? It's more common than you think, and yet this part of your home is often overlooked when it comes to planning for fire safety. If you haven't considered fireproofing your garage, it's time to start. 
How Common Are Garage Fires? 
Each year, 6,600 garage fires occur. These fires result in an average of 30 deaths, 400 injuries, and $457 million in lost assets. These are not numbers to scoff at. It's important to take garage fires seriously to avoid serious injury and loss to yourself, your family, and your property. 
7 Tips to Prevent Garage Fires
1. Keep Your Garage Decluttered
Unfortunately, garages are a hotspot for clutter. It's easy to toss old papers, outdated magazines, and cardboard boxes full of junk that you don't want in your house in this unused space. But it's important to resist this temptation. Not only do paper materials attract rodents, they also catch fire easily. If you want a clean, fire-safe garage, recycle unwanted paper or store it in containers inside the main part of your home. 
2. Do Not Store Flammable Chemicals or Cleaners in Your Garage
Many of the things commonly stored in garages are highly flammable. If you're storing any of the following items in your garage, rethink this choice. Try not to keep any of the following items inside: 
Gasoline 

Varnish 

Lighter fluid 

Paint

Paint Thinner 

Turpentine 

Propane 

Aerosol 

Brake fluid 

Cleaning products 

Laundry detergent 

 
3. Check Your Electrical Outlets
The number one cause of garage fires is electrical problems. For instance, shorts in the wires can cause sparking, which leads to flammable material catching on fire. You should have an electrician inspect the outlets in your garage every three to five years, though sooner is always better. You should also inspect your electrical cords for signs of wear.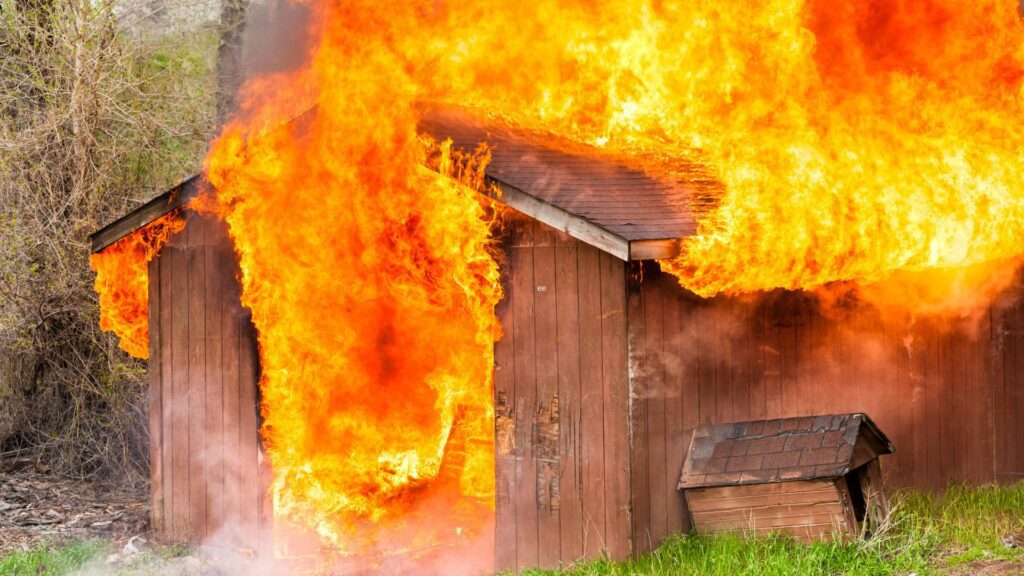 4. Check Your Car For Leaks 
Leaks in your car are a problem in themselves. You can't drive safely if your vehicle is dripping oil, gas, or antifreeze everywhere. But leaks are also a problem because they can cause puddles of flammable liquid on your garage floor. If your car battery or something else in your garage sparks, it could lead to a fire. 
5. Don't Overload Electrical Outlets 
It's important to maintain your electrical outlets. However, that's not enough to prevent electrical hazards. You should also be careful not to overload your outlets. If you have multiple appliances like a washing machine or a refrigerator in your garage, you should make sure each is plugged into a separate outlet. 
6. Get Fireproof Doors and Windows
Part of the reason garage fires are so dangerous is that they spread easily into other parts of your home. If you have an entry door from your garage into your home, make sure you purchase a fire-safe replacement. If your door has a window, you'll want to make sure that the glass is also fire-grade. 
7. Make Sure Your Walls and Ceiling Are Fire-Rated
It's impossible to completely fireproof your garage. However, installing fire-rated walls and ceilings is a good way to protect your property from damage. If you aren't sure if the current material in your garage is fireproof, you can call a home inspector to take a look. 
Count on ASAP Garage Doors For Reliable Assistance! 
The team at ASAP Garage Doors is eager to help you with your home improvement needs. We can help with everything from installation to maintenance. Our trained professionals are as reliable as they are knowledgeable, and they'll get your job done right the first time. Contact us today for reliable garage door assistance!