Curb appeal is arguably one of the most important factors to consider for your home. Not only can your home's curb appeal increase the value of your home, but it also can set the tone for how people will perceive your home. It's all in the aesthetic. You see, the aesthetic that the exterior of your home can create is one of the first things that your neighbors, friends, family, and people passing by will see. So, it's crucial to create a flowing dynamic across your entire house. But did you forget about the largest appliance in your home, your garage door? Sometimes it can be hard to find what will match the rest of your house. It could be that you aren't sure what to search for, what style will look good, or which style you want. Luckily for you, that's why we wrote this! Learn about different garage door styles in our informative blog post!
Why Does the
Garage Door Style
Matter?
Your garage door can make or break the aesthetic of your home's exterior. Imagine you owned a modern black and white house that features a ranch-style garage door; the garage door would take. In addition,  a mismatched garage door can be an eyesore. This means instead of admiring your beautiful front door, patio chairs, or floor-to-ceiling windows, your eyes will only be focused on the unattractive garage door. You wouldn't want to take away from the work you did to make your exterior look beautiful, so let's go over the different garage door styles you should consider when trying to pair perfectly with the overall aesthetic of your home.
Mediterranean – Spanish Style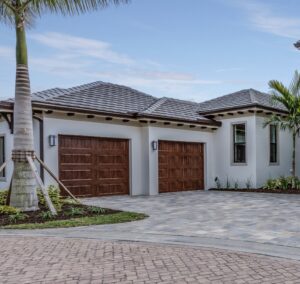 Does your home have a vacation feel? That Mediterranean or Spanish aesthetic brings a flavor of richness, beauty, and brightness to your home, but pairing the perfect garage door style with your house can seem a bit daunting. It depends on how substantially your aesthetic is already implemented. From there, you can narrow in or expand on the additions you wish to include.
Base Aesthetic:
A good base to start with is a brown wooden garage door. You can choose to have the framing rounded to better hone in on the Mediterranean/Spanish feel.
Classic Aesthetic: 
 Moving from the base garage door, some additions you could consider are window inserts, handles, paneling, and even an eyebrow pergola.
Higher-End Aesthetic: 
To achieve a higher-end look, you may want to stay searching for a rounded, arched garage door frame for a base. If it features a flushed base for the door with elegant paneling and details, you know you've found the right option! In addition, you may want to consider adding outdoor lighting to the sides so no matter what time it is, you will always see those beautiful garage doors!
Farmhouse – Ranch Style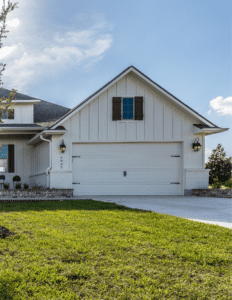 Cozy, inviting, and welcoming are not words one usually uses to describe a garage door, but that's how a farmhouse or ranch-style home can feel. Matching a ranch-style home can seem difficult, but once you take it step-by-step, it's simple!
Base Aesthetic:
The best way to keep the farmhouse look together is to go with a white garage door. While this look can vary in colors, from light to dark wood, white, and even black, the foundation of the garage door usually maintains the same paneling.For both farmhouse and ranch-style garage doors, you could expect an 'X' shaped panel following a rectangular shape on top that could potentially fit a window.  
Classic Aesthetic:
For a more classic feel to your farmhouse or ranch-style home, add windows and handles to your garage door. You could also add a pent roof above your garage door as a complement.
Higher-End Aesthetic: 
To achieve a higher-end feel, you may consider having rounded arched garage doors with a subtle but lovely sconce that will highlight your door. A charming wood tone would do exceptionally well, especially with an added touch of greenery that pulls every detail into perfection.
Modern Style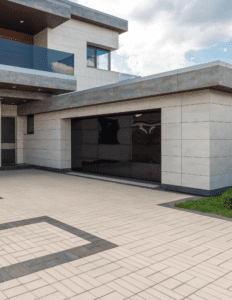 Modern aesthetics can take many shapes, sizes, and forms, so it is understandable if you feel lost when trying to find your perfect garage door! Let's talk about how to suit a modern home aesthetic within this garage door style!
Base Aesthetic: 
Typically, for a modern aesthetic, you should use a sleek and flushed black door as a base. Modern garage doors can come with or without paneling and handles. The addition of the handles really helps to draw your focus to the sleek finishings, but they aren't necessary.
Classic Aesthetic:
 For a classic twist to the modern approach, you can use different materials, such as wood. Additionally, your door could feature slim rectangular windows that help draw your eye, giving you a more modern look and adding dimension.
Higher-end Aesthetic: 
If you're wanting a higher-end feel to your modern aesthetic, you may want to consider a full glass garage door. You can install a metal eyebrow pergola for an added touch of modernity.
Carriage-Style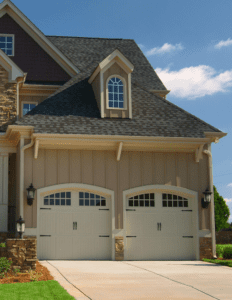 Carriage-style garage doors can sometimes be seen as old-fashioned or outdated. However, they make a beautiful addition to homes with a classic or vintage aesthetic. They pop out more than the average garage door. Here are some different design levels that you can take into consideration!
Base Aesthetic: 
Carriage-style garage doors have a plain base to start. Usually, you can expect square paneling across the entirety of your garage door. While the foundation of this style has the same layout, you can find different colors that can set you apart from those who have the same style.
Classic Aesthetic:
For a slightly upgraded version of the carriage-style garage door, you can add windows to the top row of the paneling. That row of windows can add dimension, light, and an overall aesthetically pleasing look. In addition, you may want to add some handles to bring in a metal such as gold. This addition can add color, brightness, and depth to your garage door.
Higher-End Aesthetic: 
For a higher-end look, you may want to add more rows of windows as it can allow for greater light to enter. In addition, you may consider adding decorative hinges to create more depth than before. The addition of lights would be a notable addition to complement the overall look.
Find Your
Garage Door Style
With Our Team's Help! 
ASAP Garage Door can install a plethora of garage door types. So, no matter what style you choose, you can expect our experts will take care of your garage door needs! Call us at (210) 791-9216 or contact us on our site.