Do you ever notice how most garage doors move in a way where each section folds at a time as it opens or closes? These types of garage doors are actually known as sectional garage doors due to the fact that they move in "sections" rather than as a single garage door panel. But did you know that sectional garage doors are built in a way that gives them many advantages over single-panel garage doors? Let's take a look at just four advantages of sectional garage doors. 
1. Sectional Garage Doors Are Durable And Weather Resistant 
Sectional garage doors are primarily notable for their longevity and ability to resist weather damage. These garage doors are not as likely to be dented by strong winds and are manufactured for successful insulation. Insulating your garage door will make a difference in your energy bill, whether you're cooling down in summer or keeping warm in winter. The weather resistance and insulation capacity of sectional garage doors add to their already guaranteed long life. 
2. Automation Is An Option For Sectional Garage Doors 
After installing your sectional garage door, you can add automation. Automating your garage door will save you the time you would otherwise lose by manually operating it. A garage door opener that you can control with a remote from the comfort of your car or keypad will not only save time but also add an extra layer of security to your sectional garage door.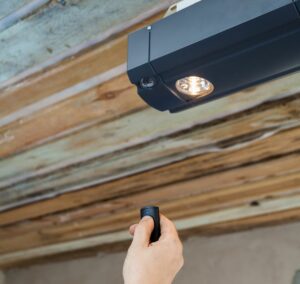 3. Individual Panels Can Be Replaced Instead Of The Whole Garage Door 
Where single-panel garage doors are concerned, their main disadvantage is that if any part is severely damaged, the whole garage door will need to be replaced. Luckily, you won't need to worry about that problem with sectional garage doors because sectional garage doors consist of separate panels. If the damage is contained to just one panel, you only need to replace that panel, not the entire garage door.
That said, a multi-panel replacement can also be costly. That is why it's important to keep up with maintaining and protecting your sectional garage door. Nevertheless, it's reassuring to know that if any of the panels of your sectional garage door incurs serious damage, you won't need to worry about replacing it entirely. 
4. Multiple Options For Materials And Style
Finally, sectional garage doors can be customized. They can be manufactured from a wide array of materials and tailored to fit any style you want for your garage door, whether it's colors, inserts, trim, or anything else. Materials can include fiberglass, steel, wood, and aluminum, among others. Sectional garage doors are found in the traditional, industrial, carriage, contemporary, modern, and so many other styles. These versatile possibilities for sectional garage doors are possible because it is defined by how it operates rather than their design capabilities. If you want various choices for your garage door, then a sectional garage door is your best option. 
ASAP Garage Door Technicians Can Work With Any Garage Door! 
Now that you are familiar with these four advantages of owning a sectional garage door, you are probably curious about how to acquire one. First, you will need to find a reputable local garage door service. As soon as you find that service, make an appointment to discuss costs and share your vision for what your sectional garage door will look like. As always, make sure there is room in your budget at this time to undertake such a project. If you live in San Antonio, then you can easily reach out to us at ASAP Garage Door for the best garage door service in all of Texas. Contact us today so you can begin your sectional garage door project!