Your garage door makes up a large portion of your home's exterior. Because of that, you naturally want to make sure that it looks its best. If you do not maintain your garage door properly, it will significantly detract from your home's appearance. When people walk by or guests come to visit, they are sure to notice peeling paint, chips and dents, and any other flaws. If you want the exterior of your home to maintain its curb appeal and leave a good first-time impression on visitors, you're going to need to know how to paint a garage door. Unsure of where to start? No problem! Read our guide on how to paint a garage door today. 
How to Paint a Garage Door In 5 Easy Steps
So you're tired of your garage door being an eyesore? If so, you'll need to learn how to remedy the problem. Here are the 5 steps you can take to paint your garage door: 
1. Choose Your Garage Door Paint
You can't use any kind of paint on a garage door. You have to choose the right paint for the job based on the material. Typically, you should use exterior latex paint for garage doors. This works well for both wood and vinyl. If you have a metal garage door, you may want to consider purchasing an oil-based paint. However, exterior latex paint is also acceptable when painting a metal garage door as well. It depends on your preference. 
2. Wait For the Appropriate Weather
If you've purchased your paint and are eager to get started right this minute, hold on. Not all weather is suitable for painting. Hot weather will work against you, conflicting with your efforts to beautify your home. Wait until there is a cool front. That way, there are several days of acceptable weather for you to work in. You may want to start a project like this in the fall. That way, you have a higher chance of cool weather several days in a row.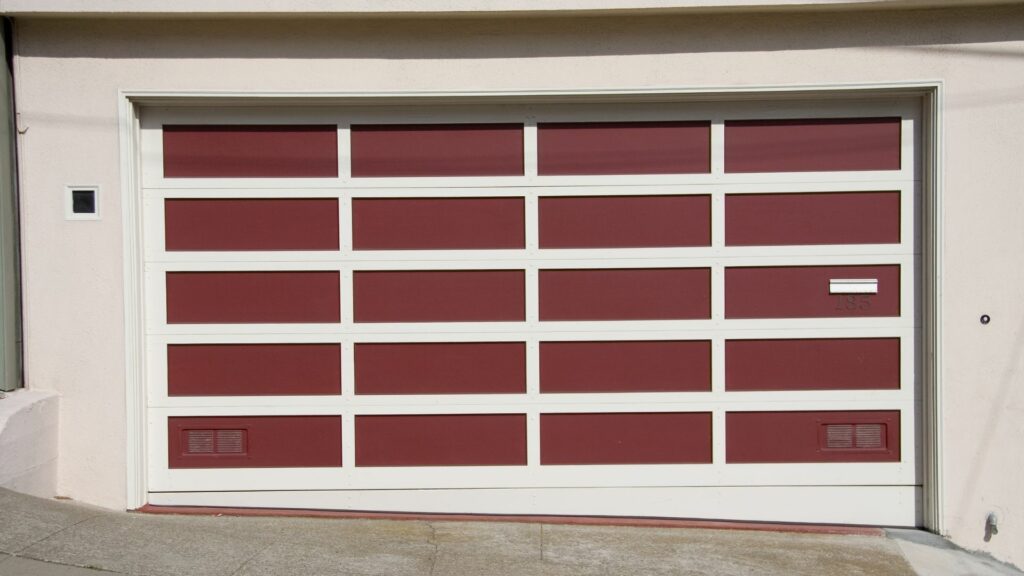 3. Gather Your Tools
A roller and a can of paint are not the only tools you'll need when you are ready to start your project. You will also need sandpaper, a wire brush, a sponge or rag, a gentle cleaner (such as dish soap), a hose, and painter's tape. It is also advisable to use safety gear, such as gloves, a mask, and goggles or safety glasses. 
4. Prep Your Garage Door 
Alright, you're almost ready to paint. You only need to prep the surface of your garage door, and then you're good to go. Put on all your safety gear, then get to work. First, remove any rust and chipped areas using your wire brush. Then go over the same areas with sandpaper until the surface is even. Next, it's time to clean. Prepare a bucket of warm soapy water, then wipe away all the dirt, grime, pollen, and any other substance that has adhered to your garage door. Hose it down and dry it. You should wait at least an hour before beginning your paint job. After an hour, apply painter's tape over everything you do not want to get paint on. 
5. Paint Away! 
At last, you are ready to paint. Ideally, you should start with a primer. After you let the primer dry for at least 12 hours, you can finally add your top layer. It is easier to start at the bottom, then work your way to the top. Make sure you apply an even coat. Once you're done, let it dry and come back to check for any spots you missed. If there are areas that need a touch-up, go ahead and add a second layer of paint. 
We Know How to Paint a Garage Door! 
Using this five-step process, you are sure to have a beautiful garage door in no time. With a little bit of patience and hard work, you can enhance the interior of your home for a low price. It's amazing what a fresh coat of paint can do. But if you feel overwhelmed even after becoming equipped with the knowledge of how to paint a garage door, that's okay too. Our professionals at ASAP Garage Door can assist you. We know how to paint a garage door, and we offer many other useful services as well. Contact us today to learn more!