The weather can be extremely unpredictable, especially in San Antonio, Texas. From floods to extreme heat, you always want to be prepared for the unexpected. One part of your home that you want to protect from weather damage is your garage door. 
This part of your home is responsible for ensuring the safety and security of your vehicle and property. When well-maintained, it can also add to your home's curb appeal. Sometimes, however, we find ourselves dealing with weather-damaged garage doors, despite our best efforts. Keep reading this blog to learn how to repair weather-damaged garage doors. 
The Importance Of Repairing Weather-Damaged Garage Doors
Before officially diving into how to repair weather-damaged garage doors, we must stress the importance of repairing weather-damaged garage doors. Allowing these damages to fester can result in mold and rotting or various safety problems that make your garage door dysfunctional. The sooner you begin repairing your weather-damaged garage door, the sooner you can return things to normal. 
How To Repair Weather-Damaged Garage Doors
Knowing how to repair weather-damaged garage doors is essential to restoring your home's security and property value. Here are the steps you should follow to repair a weather-damaged garage door. 
1. Assess And Document The Damage 
As soon as you are able to do so, take as many pictures as possible of your weather-damaged garage door. This documentation will come in handy when obtaining estimates for services and communicating with your insurance company. Ensure that your pictures capture the state of your garage door clearly and thoroughly. Don't forget to have these images saved so you don't accidentally erase them.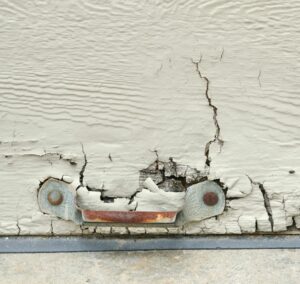 2. Contact Your Insurance Company
After taking pictures of your garage door, reach out to your insurance company so you can find out how much they will cover for repair and/or replacement services. If the damage to your garage door is not extremely severe or relatively minor, you can easily contact a garage door repair technician to take care of it. If it is severe, get your insurance company involved. 
3. If Metal, Use A Hammer On Small Dents
Some very minor garage door damages can be addressed with a DIY approach. One example is small dents resulting from extreme winds on metal garage doors. Usually, you just need a claw hammer or a heat source to reset the metal panel to its original state. However, you should only do this if you're absolutely certain of your ability to execute this DIY repair. 
4. If Wooden, Treat It Right Away
If you have a wooden garage door, you want to be prepared to tackle any water damage before it escalates. Wood is especially prone to the effects of water damage, like mold and mildew. For this reason, it's absolutely essential to treat all water damage inflicted on your wooden garage door right away. That way, you can prevent mold before it has the chance to grow and rot your garage door. 
5. Call A Garage Door Technician 
The process of how to repair weather-damaged garage doors can be complex, so your best bet is to trust a professional to handle it. All you need to do is find the best garage door technician in your area to address the damages. Then, you can go back to having a functional garage door sooner rather than later. 
Luckily, you already have access to ASAP Garage Doors, the best repair service in San Antonio. Our team knows how to repair weather-damaged garage doors in both mild and severe conditions. How do you obtain our services? Just contact us today, and we will return your garage door to its former glory.