The effects of weather on garage doors are vast. From small dents to severe water damage, you always want to do what you can to prepare for the potential outcomes. As a result, you want to do everything you can to reduce any possible weather damage to your garage door. Luckily, you can keep reading this blog to learn all about preventing weather damage on garage doors. 
Preventing Weather Damage On Garage Doors: 5 Tips
It's always a good idea to prepare your garage door for inclement weather conditions. Here are some ways you can go about preventing weather damage on garage doors: 
1. Weatherstripping
Installing and maintaining garage door weatherstripping is a simple and effective way of preventing weather damage on garage doors. There are many kinds of weatherstripping, from bottom seals to panel weatherstripping. You can evaluate which parts of your garage door are most likely to let in water and debris and install the weatherstripping in those places. After a severe storm, you will want to replace it so that you can continue effectively preventing weather damage on garage doors. 
2. Flood Barrier
Speaking of water damage, one way to prevent weather damage on garage doors is to install some kind of flood barrier beyond just a bottom seal for your garage door. One DIY flood barrier you can use is sandbags. Take some time to determine how many sandbags will serve as a sufficient flood barrier for your garage door. You don't want to get too many sandbags that will take up space in your garage, but you want to get enough of them to work effectively. Hopefully, this addition will make a difference in reducing water damage to your garage door.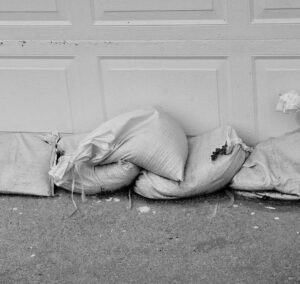 3. Fill Cracks
One part of your garage door you don't want to risk overlooking are any cracks and spaces where debris and precipitation can easily enter. You can thoroughly cover your bases by filling in those cracks in your garage door. Vinyl concrete patches are available at your local store and can be used to fill those gaps. Another material that can fill in those gaps is silicone or silicone-latex. Finally, weather seals can also do an adequate job of filling the cracks in your garage door. 
4. Temporary Hurricane Braces
Finally, if you live in an area that faces tornadoes and/or hurricanes, having temporary hurricane braces that you can install will make a huge difference. This addition mainly consists of brackets that reinforce the wind resistance of your garage door, which can be installed against the panels. This addition is made of steel and should be installed in garage doors that aren't already manufactured to be wind-loaded. 
5. Add UV-Resistant Coating
Another type of weather damage that shouldn't be overlooked is UV radiation from the sun. This sunlight exposure can lead to a garage door deteriorating quickly, which can lead to a drop in curb appeal. For this reason, you want to apply a UV-resistant coating or reflective paint to your garage door. Now, your garage door will truly be able to last. 
Our ASAP Garage Doors Team Knows All About Preventing Weather Damage On Garage Doors!
These five tips for preventing weather damage on garage doors will surely allow this part of your home to last for a very long time. From severe winds and rainfall to UV radiation, you want to protect your garage door from any potential weather damage. As for which garage door company you can call to prevent and/or address weather damage on your garage door, ASAP Garage Doors is on your side. Contact us today, and our technicians will do everything to ensure your garage door remains operational and aesthetically appealing.